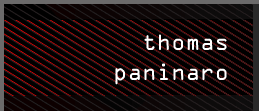 Thomas Paninaro likes music, loads of music. So much music that he could never manage to stick to only one style. He just likes it all. There have been weeks where you could hear and see him playing 1970's Disco Classics on a Thursday, House Anthems on a Friday and Progressive Trance tunes on a Saturday.

"The tricky part" he says, "is not to command it all. That comes naturally with the territory if you've been playing out for the best part of nearly two decades in so many different surroundings. The tricky part is people's perception. For some people I'm the retro guy, for others the Electro DJ. People have a hard time accepting that it's possible to be a great DJ in both areas. After all, the only thing that matters is GREAT music, no matter if it's from the 1960's or today.

So where did the journey of this German DJ with that silly Italian name start?

Well, at the tender age of 13, Thomas started spinning in youth clubs in the suburbs of East Berlin. Tapes, recorded while listening to the radio day and night, were soon replaced by Vinyl and CDs. Those were the heydays of Euro Dance: a fusion of Pop and House and even early Trance with a slice of Hip Hop and R&B. Snap!, The KLF, Jam & Spoon but also Depeche Mode and the Pet Shop Boys. Sometimes, Thomas would open one of his early nights with their 1986's epic "Paninaro". A name that stuck and soon this young DJ was known as "Thomas Paninaro".

The city was an exciting place to be in those years after the fall of the Berlin Wall, especially for somebody "from the wrong side of it". However, Thomas felt the need for a change and settled down on the other side of the globe in Hong Kong, a city he had fallen in love with when traveling in Asia. His aforementioned ability to play various styles helped him to get a two-year residency at the most happening place at that time: Red Rock in Lan Kwai Fong where he played R&B, Hip Hop, Funk, Soul, and House in front of an excellent crowd in a club smaller than some folks living room.

Then the venues got bigger, a lot bigger. The clubbing scene exploded in Mainland China and Paninaro was in the midst of it: In 2004 alone he shared the stage with Johan Gielen, Above & Beyond, Agnelli and Nelson, Eddie Halliwell, Pulser, JFK, The Thrillseekers, Anne Savage and even played back2back with Scott Bond of Gatecrasher fame in Beijing. Thomas set up D.event, a company responsible for bringing international top notch-talent to the Far East and an outfit that threw some of the most memorable events in Shanghai, a city that had quickly regained his position as one of Asia's leading nightlife capitals.

However, Paninaro's biggest audience were probably the nearly one million listeners of "Live It Up, Shanghai!", a radio show broadcasted every week for three years running. He took great pride in being an ambassador of foreign dance music.

The year 2005 then saw him embarking on massive tours covering more than 50 cities in the Far East. During the summer months he rocked the nation's clubs for Channel V, Asia's leading music channel. With tour ads running on heavy rotation for three straight months on prime time television and with countless print media, radio and TV interviews, Thomas established himself as one of the most recognized entertainers in the region's dance music scene. This meant more gigs in Europe and Asia in 2006, most notably a slot at the famous Berlin Love Parade, the world's biggest Open Air dance party with an attendance of more than a million revelers.

Having survived all those tours, Paninaro spent more time in his newly-adopted hometown of Shanghai where he served several years as "Music & Entertainment Director" of Hong Kong – invested, Phillippe Starck – designed uber-chic club and lounge VOLAR where he worked side-by-side with International Dance Music honchos such as Westbam, Tomcraft, Mike Monday, Steve Aoki, Lange, Andy Moor, Tommie Sunshine and plenty more amazing local and international talent.

In recent years, Thomas made a name for himself performing at high profile corporate, private and public events. When Porsche launched its Panamera, when the Shanghai Bund Peninsula Hotel opened its doors with a massive party, when the American Chamber of Commerce celebrates its annual 4th of July Independence Day Party, Thomas Paninaro was and will always be there, making sure there is music, loads of music. GREAT music.